Skunks are tiny yet irritating critters that can be easily seen roaming around in your yard. They are disliked for the strange and weird odor they exhibit via tail, especially when they sense any danger. These stubborn critters look alike squirrels, but a little larger. If your home is invaded by skunks and you are planning to remove them on your own, you might regret your decision as these critters are too fast to catch.
Pro Wildlife's Haldimand Wildlife Removal Service is a leading animal control company offering humane and effective skunk removal in Caledonia and surroundings. No matter, there is a single skunk or an entire family residing in your property, we know how to get rid of them with long lasting effects.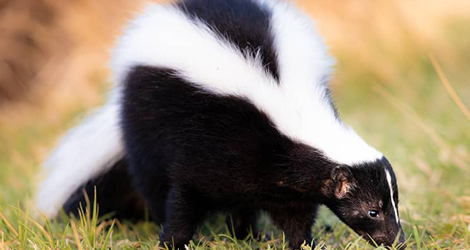 With a team of trusted skunk control experts in Caledonia, we aim to keep your home, interiors and yard free from unwanted critters. We are well versed in applying the latest wildlife control techniques and use eco-friendly products to shoo away these unwanted critters. No matter how mild or severe the infestation is, we are here for you. Our services include:
Reliable & Long Lasting Skunk Control
At Pro Wildlife's Haldimand Wildlife Removal Service, we have years of experience in dealing with unwanted skunk invasions and know what it takes to prevent them in the long run. Our team believe in humane services.
You can rely on us for same day or emergency skunk control in Caledonia, Hagersville, Cayuga, and Dunnville. We leave no stone unturned to ensure your safety and satisfaction. Some reasons to choose us include:
Contact Us To Schedule An Inspection!