At Pro Wildlife's Haldimand Wildlife Removal Service, we have been preventing squirrels from both residential and commercial properties for the past many years now. Squirrels might appear cute but they can wreak havoc on your property. So, it is essential to get rid of them as soon as you find them in or around your property. Our squirrel control experts in Caledonia, Hagersville, Cayuga and Dunnville, Ontario have complete knowledge about the nesting habits and seasonal behaviors of these critters which help us solve the issue quickly and efficiently.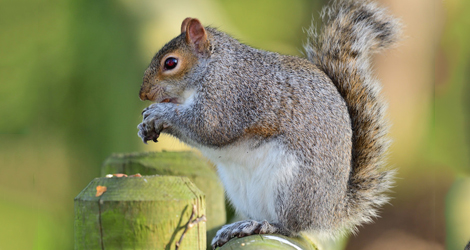 Squirrel Damage & Threats
Squirrels chew on plastic, wood and aluminum. This means your roof vents, soffits, and other parts of your roof and attic can be damaged by these little critters. Once inside, squirrels chew electrical wires, displace insulation, defecate and urinate in the attic. Sometimes their defensive behavior can be harmful for your pets and kids. Additionally, they also host various diseases and parasites and can transmit it to you, your family and pets.
If you hear scratching and running noises coming from the attic or visible hole on the roof, call our professionals as soon as possible. Once we receive a call, we will reach you within 24 hours for a complete inspection of your house or office. We will check the interior and exterior area of your home to find the potential signs of damage and animal activity.
Once we determine the entry areas of squirrels, we use our effective methods to prevent them from your property. Our squirrel experts in Caledonia, Hagersville, Cayuga and Dunnville, ON make sure they are removed effectively so that they don't come back. Once the treatment is done, we will disinfect your property and also perform minor repairs.
Contact us now to schedule squirrel removal services.